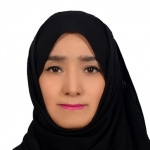 Al Ain, United Arab Emirates
Fatima Al Ketbi
ID: 43075
Domains:
Unspecified
Brief Biography
Qualifications
2009 -2011 Master of Business Adminsitration (MBA), UAE University
1999 Bachelor of Management Information System (MIS), UAE University
Work Experience
Now Head of Workforce Planning & Human Resources Development Section
Director of Student Infromation system office
Activities
Member in implantation team or the (Electronic Performances System) project in 2018.
Leader of implantation team of the "DegreeWorks advising tool" project in AY 2016/2017.
Member in "moving to the Smart Government committee" for UAEU.