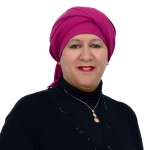 RKIA RGUIBI
Practitioner Trainer
ID: 41462
Domains:
Family Relationships

Brief Biography
Executive Secretariat diploma at the Higher Institute of Applied Technology.
Training in Women's Protection Techniques with Doctors of the World.
Diploma " emotional smartness " with illafTrain.
project manager for the protection of children against domestic work at the Terre des hommes Foundation.
national leader in child protection projects at the Terre des hommes Foundation in Morocco.
Monitoring and evaluation of local development projects and programs.
Design, planning and management of human development projects.