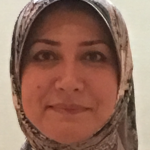 Dr. Khawla Alaiwa
Certified Master Trainer
ID: 36035
Domains:
Career Development

Brief Biography
Ph.D University of JordanEducational Educational Administration 2008.
Academic Manager of Math Department Preparatory Year Project-Princess Nora Univ.2012.
Project Manager Preparatory Year Project-King Saud Univ. 2011
Dissertation titleA Proposed Model for The Optimal Student Enrollment at The University of Jordan According to The economies of Scale.
Master University of Jordan Educational Administration Educational Planning 1995.
Thesis title The Evaluation of The Competencies of The Employees in Educational Administration in Jordan.
Bachelor University of Jordan Education &Teaching Math & Science 1991.
Assistant Professor Education University of Hail- KSA 2013.